Championing true equity, diversity and inclusion
Inclusive Recruiting is a full-service equity, diversity and inclusion (EDI) consultancy. We Transform, Train and Teach, to create belonging and equitable workplaces for organisations and the people powering them.
We advocate for long-lasting positive change, so as well as supporting with business transformation through recruitment partnership, we also provide inclusion training workshops and strategic EDI consultancy services to change mindsets and behaviours, breaking barriers to ensure that workplaces are truly equitable and ready to take real systematic action from the heart of the organisation.
"Your norm is the norm for you, not the norm for everyone."
– Vanessa, CEO, Inclusive Recruiting

Recruitment
Specialising in working with organisations in the charitable/not for profit, impact-led sector, we are dedicated to helping our clients meet their EDI ambitions and diversify their talent, while enhancing productivity, innovation and engagement, now and for the future. We have a proactive approach to building and developing our diverse talent pool. We support our candidates in their career progression and consider their experiences and values when matching their needs with the demands of our clients.
Inclusion Training
Designed to build better understanding and allyship in the workplace and wider society. We embed intersectionality throughout to implement change for an equitable future for all. Alongside our bite-size EDI dialogue sessions, we offer the following innovative and impactful workshops:
Foundations of EDI, Inclusive Recruitment, Inclusive Leadership, Conversations About Race & Inclusion, Anti-Racism, and Microaggressions.
Strategic Consultancy
Inclusive Recruiting combines comprehensive experience in Recruitment, Human Resources, and Learning & Development.

This experience, coupled with our deep expertise in EDIB (equity, diversity, inclusion and belonging), means that we can support clients with the implementation and/or creation of culture transformation and the organisation's overarching EDIB strategy and have significant impact across all aspects of their work, both internally and externally.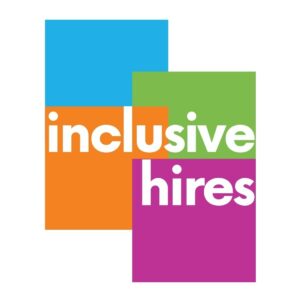 Advertise vacancies on our Inclusive Hires jobs board — our no-nonsense platform where your job opportunities will reach a wide and diverse pool of talent. We offer a variety of different packages to suit your needs and budget.

Hire inclusively, attract diversity.
We have delivered for the following organisations:
"We are working with our partners at Inclusive Recruiting to reach as diverse a group of applicants as we can."

One of our values is: "We celebrate what makes you you – whoever you are, we welcome you and encourage you to be true to yourself". We are working with our partners at Inclusive Recruiting to reach as diverse a group of applicants as we can.