Welcome to our Candidate Zone.
With our proactive approach to building and developing our diverse talent pool, we support our candidates throughout the recruitment process, nurturing their career progression. We consider experience, values and transferable skills when matching your needs with the demands of our clients. We work with inclusive employers who want you to feel valued and confident in bringing your whole self to work.
At Inclusive Recruiting, we are passionate about helping under-represented, diverse talent to progress in the workplace. We know there is a lack of representation at leadership levels and we want to change this. We want to offer our support, give back and make a difference, by removing barriers and smashing through the glass ceiling.
This is why we created the Inclusive Recruiting Network – a free inclusive network of professionals from diverse backgrounds at various stages of their career.
The network provides an opportunity to meet, engage, and develop your career, by sharing experience and creating change!
By joining, you'll gain access to:
Discussions
Free events
Meet ups
Networking / Networking events
Coaching / Mentoring
Training opportunities
It's free to sign up. Simply register your CV with us below via our Inclusive Hires jobs board and we'll be in touch to offer you full access to our advice and resources.
How would it feel if you felt prepared and ready to interview? Excited to talk through all of your wonderful achievements in a way that consistently delivers an impressive, memorable interview performance? With pride that you represented yourself with authenticity?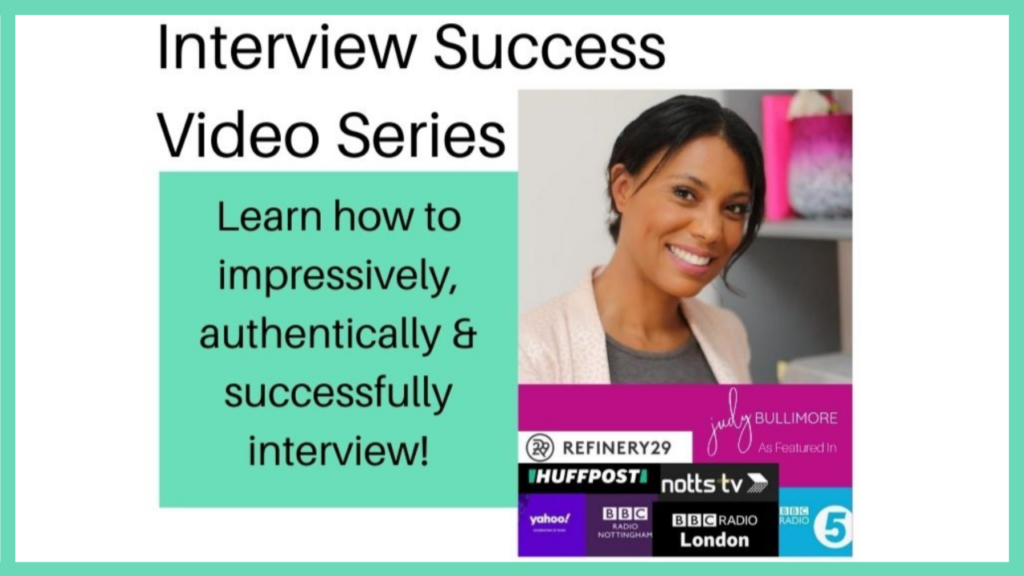 This video series has been expertly designed by the Queen of Interviews and Dream Job Mentor, Judy Bullimore, to enable you to acquire the presentation, interviewing and performance techniques to wow the interview panel no matter what the question, so that you know how to;
Anticipate and answer the most common types of interview questions
Understand how to bring your expertise, personality, passion and skills to life
Learn how to leave a positive, memorable impression with the interviewer
To help you further with your interview preparation, you can also download Judy's 'Interview Story Impression Technique' guide here.
13 April, 2022 12:00 PM UK
Join Andreena Leeanne and Inclusive Recruiting for an empowering session on being authentic at work. Be ready to be inspired by Andreena's lived experience and her poetry! She talks about what it means to be authentic, the benefits of being authentic at work, values and why they are important, and also shares her tips to being authentic at work.
Andreena is a Lived Experience Speaker, Self-Care Workshop Facilitator, Poet & Author. She was Stonewall's Black History Month Role Model in 2018, and was shortlisted for a National Diversity Award for Positive LGBT Role Model in 2021. 
Andreena writes and performs poetry to come to terms with and speak out about her personal experiences with identity and the many other challenges she has faced in her life. By speaking her truth, she hopes to inspire and empower others to speak and write their truth. Andreena facilitates self-care writing workshops, performs her poetry at various events and facilitates a virtual and in-person open mic event specifically for the LGBT+ community.
Event resources:
9 February, 2022 1:00 PM UK
Join Samantha Clarke, Happiness Consultant and Changemaker! Whether you're currently looking for a role, you're a new employee, or already within a company, Samantha will talk you through how to create a mindset that will set you up for success.
Learn how to build extensive knowledge and skills to deal constructively with everyday situations and help to create best impressions in the first 30, 60, 90 days in a new job.
Don't miss this session to help find your joy of work!
6 December, 2021 12:00 PM UK
We were delighted to be joined by Nazish Bhaiwala, Career Coach, Imposter Syndrome Specialist, former employment lawyer and qualified workplace mediator to learn how to overcome imposter syndrome feelings at work.
Feeling like an imposter at work and constantly fearing being 'found out' is not only exhausting, it can also make you feel lonely and anxious, and it can mean you struggle to ever really enjoy your success. However, it does not always have to be this way. By increasing your awareness and increasing your understanding of imposter feelings, you can begin to overcome them, counter self doubt and start to feel more in control.
See our Blog below for posts by Nazish Bhaiwala on the subject of Imposter Syndrome…
13 October, 2021 12:00 PM UK
Join the wonderful Mildred Talabi – LinkedIn Visibility Coach, Author of 'Start Being Visible' and Founder of Visible Women Tribe – to learn about 'The 4 Pillars of LinkedIn Success' and how you can apply them to help you land your next role. Build your personal brand and improve your employment opportunities!
Event resources:
Download a LinkedIn Profile Revamp Guide here.

Take a LinkedIn visibility test to see how visible you are! Go to startbeingvisible.com to start.
16 September, 2021 12:00 PM UK
What challenges do you face when writing your CV? Inclusive Recruiting are delighted to be joined by Career Coach Mohammed Kasujee to learn how to create your winning CV.
Find out the do's and don'ts of structuring your CV, learn a formula to create your executive summary and how to present your key achievements.
Top tips in posts from our team and guest experts on how to make the most of every application or interview, and make the progress in your career that you deserve.
April is Stress Awareness Month. We all know what it's like to feel stressed and experience stress from time to time. It can help motivate us and improve our performance, but if it's happening too frequently it can cause problems.
Certified Career and Mental Fitness Coach Karen Boyd shares her top tips on how to build your mental fitness and reduce stress…
There is a secret to applying for and getting jobs. Being your best at interview is a combination of having a great application to get you in the room, plus wowing the interviewers on the day.
People with dyslexia may face unique challenges when applying for a new job…
If you are affected by Imposter Syndrome, you know that it can make you feel enormously isolated and anxious at work.
The good news is that a great way to begin overcoming it is also very simple and something you can start doing immediately…
When it comes to Imposter Syndrome, there are added layers of complexity for minority groups that we can all benefit from being aware of. Imposter Syndrome (more accurately known as 'imposter phenomenon') at work describes the experience of feeling like a fraud…
"Inclusive Recruiting are exactly what they say they are, an inclusive recruitment agency that really represents the employee as well as the employer. I have been managed by Priya and she has been absolutely amazing. She has talked me through the role I was applying for, answered my questions openly and really made me feel that we were on a journey together. The fact that the journey ended well is a beautiful bonus but I would have been happy either way. I highly recommend her and the Inclusive Recruiting team."
Hayley, Senior Partnerships Campaigns Officer
I had a great experience with Inclusive Recruiting and would strongly recommend their services to anyone looking for support with regards to employment. A special thanks to Jason & Priya who were both instrumental in securing me an exciting new role!
"My experience with the Inclusive Recruiting team was fantastic. From the first time I was contacted about a possible role, through three rounds of interview and a tricky negotiation stage on the salary I desired, the recruitment team were incredibly supportive and constructive. I really think they made all the difference to me successfully getting a great job that I am enjoying thoroughly. I could not recommend them highly enough."
"It was a pleasure working with Vanessa/Inclusive Recruiting when they placed me within my new position. They communicated continuously and took the time to understand my needs as well as demonstrating a clear understanding of their client's needs. They were transparent throughout the process so I felt comfortable when making the decision to accept. Would highly recommend to anyone looking for a new opportunity!"